Volkswagen Tiguan vs Nissan Rogue
When you're looking for your next car in the Mechanicsburg and Camp Hill areas, a crossover SUV makes for a good pick. Two popular models in this class are the Volkswagen Tiguan and Nissan Rogue, but which is better suited to drivers in the greater Harrisburg area?
The team at Faulkner Volkswagen wanted to find out, so we compared the Tiguan vs. Rogue on the points of powertrain, driver-assist features, and interior dimensions.
Volkswagen Tiguan vs Nissan Rogue: Powertrain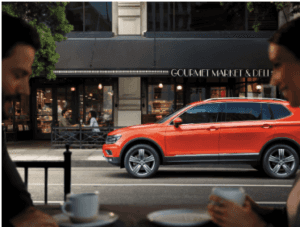 When it comes to winter weather, both the Tiguan and Rogue are well-equipped with an available smart all-wheel drive (AWD) feature. These systems actively monitor your driving conditions and redistribute torque between the front and rear wheels as necessary to help you maintain your grip on the road.
Drivers in the Tiguan may have a bit more traction, however, with an available Snow Mode setting, which allows the engine to upshift earlier to stay in a lower RPM range. This prevents too much power from going to the wheels too quickly and provides a smoother acceleration.
The Tiguan also appears to excel in engine output, producing 184 horsepower and 221 lb-ft of torque with its 2.0L TSI® turbocharged engine. Compare this to the Rogue, which only generates 170 horsepower and 175 lb-ft of torque.
With more torque output and an available Snow Mode, drivers in the Tiguan may have an easier time accelerating in the snow than those in the Rogue.
Tiguan vs Rogue Driver-Assist Features
With several driver-assist features available, both the Volkswagen Tiguan and Nissan Rogue can help you look out for unseen hazards in the road.
Both SUVs make a Blind Spot Monitoring system available, which helps you merge safely on the highway by alerting you to cars in your side blinds spots. They also both include a Forward Collision Warning system that warns you of potential forward impacts with other vehicles or pedestrians. These systems will also automatically brake if necessary.
The Volkswagen Tiguan offers an additional feature called Area View that provides an extra helping of visibility. This is a system of four cameras that give you a 360-degree view around your car. It's especially helpful for peering around tight corners for pedestrians or other vehicles before pulling out into traffic.
Without this kind of a feature, drivers in the Rogue may be less aware of unseen hazards while navigating car-lined city streets.
Tiguan vs Rogue: Interior Dimensions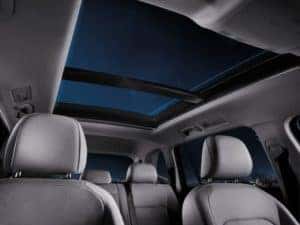 When you're packing up for a trip or carpooling the team to little league practice, you'll have plenty of space for everything you need in both the Volkswagen Tiguan and Nissan Rogue.
Both SUVs can seat five passengers, while still leaving over 35 cubic feet of cargo space behind the second row and providing 70+ cubic feet of cargo space in total.
They each make a hands-free liftgate available, as well. This feature helps you load up when your hands are full by allowing you to open the liftgate with a wave of the foot under the rear bumper.
Drivers may experience a bit more versatility in the Tiguan, however, which has an optional third-row seat. This means you can bring up to seven passengers along for the ride. With this option, you don't have to leave anyone out or secure a second vehicle for your next group outing, as you might have to do in the Rogue.
And the Winner Is:
The team at Faulkner Volkswagen compared the Volkswagen Tiguan vs. Nissan Rogue and found that the Tiguan had more to offer drivers in the Mechanicsburg, Camp Hill, and Harrisburg areas.
If you want to give this SUV a try, contact our Volkswagen dealership to schedule your test drive of the Tiguan today!