Volkswagen Jetta vs Volkswagen Passat

Searching for a reliable, efficient sedan for your daily drive near Mechanicsburg, Camp Hill, or Harrisburg? You have plenty of viable options, and this Volkswagen Jetta vs. Passat car comparison will give you a closer look at two of them.
If you're wondering how the VW Jetta and Passat match up in terms of similarities and differences, this article will give you all the information you need. Read it as you decide which VW sedan is better for you—and drop us a line at Faulkner Volkswagen if you want to learn more!
VW Jetta vs Passat: Interior Space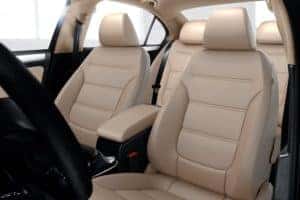 One of the most significant differences in the VW Jetta vs. Passat matchup is size. The VW Passat is a midsize car, while the VW Jetta is a compact car, giving them different interior dimensions. While both cars seat five passengers comfortably, headroom and legroom are a bit more generous in the Passat.
The most significant difference lies in legroom: Up front, VW Passat riders will find 42.4 inches of legroom to the VW Jetta still-spacious 41.2 inches. They'll enjoy an extra inch of space in the backseat, with 38.1 inches of legroom compared to 37.1 inches in the rear of the VW Jetta.
You'll notice little real-world difference in terms of trunk space—a point in favor of the VW Jetta skill at maximizing available space. It gets 15.7 cubic feet of cargo volume, just barely short of the 15.9-cubic-foot trunk in the VW Passat. Either way, that's enough space for up to four sets of golf clubs!
Engaging & Efficient Performance Specs 
As you might expect, the larger Volkswagen Passat has more power on hand under the hood. Its standard turbocharged 4-cylinder delivers a lively 174 horsepower, and higher trims feature a V6 that puts out an impressive 280 horsepower for speedy highway driving.
The Volkswagen Jetta lets you choose between three turbocharged 4-cylinders, which generate up to 150, 170, and 210 horsepower, respectively. All three are great for driving around town and can move this car with ease.
Both cars are highly fuel efficient, but the smaller Volkswagen Jetta will give you slightly better numbers. While the VW Passat gets an EPA-estimated 25 city and 36 highway MPG with the base engine,1the base-trim VW Jetta is even more economical, with an EPA-estimated 28 city and 40 highway MPG.2
Safety Features: Driver-Assist Technology 
The Volkswagen Passat and Volkswagen Jetta have each earned a 5-Star Overall Safety Rating from the NHTSA. That's just the beginning: These two sedans can do a lot more than withstand top-notch crash tests. They each offer a suite of available driver-assistive technologies, including:
Adaptive Cruise Control, helping you keep a pre-set distance from the car in front of you.
Blind Spot Monitoring, warning you of cars in your blind spot when you signal a lane change.
Forward Collision Warning, alerting you to oncoming front-end collisions—and helping apply the brakes if needed.
With features like these, you'll have more control over your vehicle and a clearer picture of what's going on around you!
Volkswagen Jetta vs Passat: Choose Your Sedan 
At Faulkner Volkswagen, we want to make choosing a quality sedan easy for shoppers across Harrisburg, Camp Hill, and Mechanicsburg. We hope you found our Volkswagen Jetta vs. Passat car comparison helpful for weighing your options.
To sum it all up, the VW Jetta is more efficient, but the VW Passat has more powerful engines and a bit more passenger space. You'll have to decide which qualities you care about more. Get some up-close-and-personal experience by scheduling a test drive today!
125 city/36 highway MPG (2018 Passat 2.0L, 6-speed automatic transmission). EPA estimates. Your mileage will vary and depends on several factors, including your driving habits and vehicle condition.
228 city/40 highway MPG (2018 Jetta 1.4L, 5-speed manual transmission). EPA estimates. Your mileage will vary and depends on several factors, including your driving habits and vehicle condition.