Volkswagen Jetta vs Toyota Corolla

Are you on the lookout for a fun, stylish sedan with modern conveniences you can depend on to boost your driving experience while exploring Mechanicsburg, Camp Hill, and Harrisburg? If so, the Volkswagen Jetta and Toyota Corolla are sure to be on your list of cars to check out. With their performance, entertainment, and convenience, both cars can certainly pack a punch.
Continue on to the following Faulkner Volkswagen VW Jetta vs. Toyota Corolla comparison to find out which of these noteworthy sedans has what it takes to live up to your particular needs.
VW Jetta vs Toyota Corolla: Performance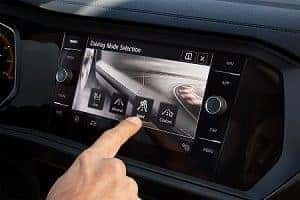 While both cars give you impressive power and performance beneath the hood, the Volkswagen Jetta gives drivers a sporty driving experience that's hard to beat.
The standard engine in the VW Jetta is the 1.4L in-line 4-cylinder turbocharged engine with direct injection and intercooler that supplies 147 horsepower and 184 lb-ft of torque.
You also get a versatile 8-speed automatic transmission that provides you with power and precision on even the sharpest turn. You'll love how easy it is to seamlessly switch gears for a smooth and comfortable drive no matter what terrain you're tackling.
For the Toyota Corolla, the standard engine is the 1.8L 4-cylinder that delivers up to 132 horsepower and 128 lb-ft of torque. You also get a 6-speed automatic transmission, as opposed to the 8-speed you get with the VW Jetta. While the performance is impressive, it doesn't quite match up to the power and precision offered by the 2019 Volkswagen Jetta.
Volkswagen Jetta vs Toyota Corolla: Entertainment and Convenience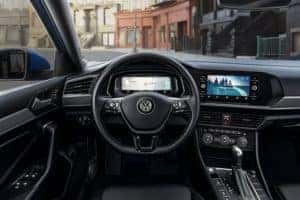 The differences between these impressive sedans continue to add up as we move on to the category of entertainment. The VW Jetta keeps you and all of your passengers connected with available Apple CarPlay™, Android Auto™, and MirrorLink® compatibility.
Another way the VW Jetta stands out in entertainment is with the available BeatsAudio™. This premium 400-watt sound system has to be heard to be believed—and the Volkswagen Jetta is the first North American vehicle to come equipped with this amazing feature. You'll love how your favorite music sounds coming out of the nine speakers throughout your car, and the crystal-clear sound quality will make you feel like you're in the front row of your favorite concert.
The available sound system over in the Toyota Corolla is the Entune™ Audio Plus, which offers you just six speakers in comparison and standard sound quality.
When it comes to convenience, the Volkswagen Jetta again outshines the Corolla with its available Magnetic Pop-In Sunshades and glovebox with cooling features that are not available in the Toyota Corolla. Both features provide an additional sense of luxury.
The sunshades allow you to easily shield the interior from the sun's rays and accompanying heat, while the glovebox provides you with versatile stowing options.
Volkswagen Jetta vs Toyota Corolla: Which Will It Be?
While both of these cars successfully live up to rather high standards, this comparison makes it quite clear that the VW Jetta is the better choice because of its performance, entertainment, and convenience.
If you're ready to see how the Volkswagen Jetta performs on the roads of Mechanicsburg, Camp Hill, and Harrisburg, stop by or contact Faulkner Volkswagen today to schedule your test drive.