Volkswagen Jetta vs Ford Fusion

Many Mechanicsburg, Camp Hill, and Harrisburg drivers will find themselves searching for an efficient and reliable sedan that can handle all their daily driving. At Faulkner Volkswagen, we want to help such drivers explore their options with this Volkswagen Jetta vs. Ford Fusion comparison.
Which sedan is more suited to your lifestyle: the VW Jetta compact or the Ford Fusion midsize? Continue reading to answer that very question and don't hesitate to reach out to us at Faulkner Volkswagen to schedule a test drive!
VW Jetta vs Fusion: Technology Features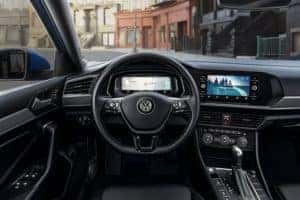 The Volkswagen Jetta and Fusion come similarly equipped as far as technology is concerned. You'll find 4-speaker systems standard in both cars, as well as dashboard-mounted display screens with USB inputs and Bluetooth® wireless technology.
Keep in mind, though, that the standard screen inside the Volkswagen Jetta is a bit larger than the one in the Ford Fusion (6.5 inches compared to 4.2 inches). Also, only the VW Jetta screen offers touch controls, while the Fusion screen is purely for display.
Engine Performance Specs
The base engines in the VW Jetta and Fusion are similar in several ways. Both are 4-cylinder engines (the VW Jetta has a turbocharged 1.4L TSI®) though the 2019 VW Jetta relies on an 8-speed automatic transmission compared to the Fusion's 6-speed automatic. You'll even see similar figures: 175 lb-ft of torque in the Fusion and 184 lb-ft of torque in the VW Jetta.
When it comes to efficiency, the smaller VW Jetta has a significant advantage. While the Fusion gets a respectable 21/31/25 city/hwy/combined MPG in its most fuel-efficient non-hybrid trim, the VW Jetta can go even farther on less fuel. It has an EPA-estimated 30/40/34 city/hwy/combined MPG* in its most economical form.
VW Jetta vs Fusion: Convenient Interior Features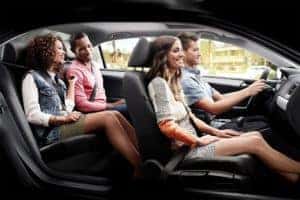 Despite its designation as a compact, the VW Jetta really manages to hold its own against the midsize Fusion. Passengers will find roughly 38 inches of legroom in the backseat of both vehicles, giving full-size adults plenty of room to relax and stretch their legs.
Cargo space is also comparable between the two sedans. Each offers approximately 16 cubic feet, giving you plenty of room to stash your weekly groceries, up to four sets of golf clubs, or five pieces of carry-on luggage.
However, there are some intriguing features you'll find on the VW Jetta that the Fusion doesn't offer, like the available 10-color customizable interior ambient lighting which helps to set the perfect mood for your evening commute home.
Volkswagen Jetta vs Ford Fusion: The Verdict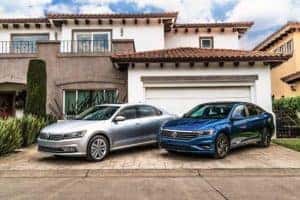 We at Faulkner Volkswagen hope you enjoyed our Volkswagen Jetta vs. Ford Fusion comparison. Hopefully, it gave you a good sense of what these cars can bring to your daily commute in Mechanicsburg, Camp Hill, and Harrisburg.
While each sedan has its advantages, we think you'll really like the incredible fuel economy and turbocharged power of the VW Jetta. To decide for yourself, schedule a test drive of the VW Jetta at our dealership today!
* Based on EPA estimates. See www.fueleconomy.gov for details. Your mileage will vary and depends on several factors, including your driving habits and vehicle condition.