What is Anti-Lock Braking System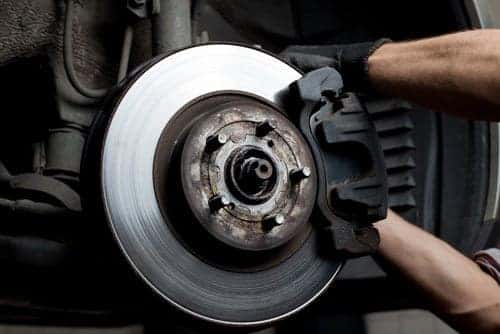 The anti-lock braking system or "ABS" found inside your vehicle is a special safety device designed to help you effectively brake when trying to avoid a potential collision. The system prevents your wheels from seizing or "locking up" and restores traction to avoid skidding.
At Faulkner Volkswagen Service Center, our team of certified technicians are committed to helping drivers throughout Mechanicsburg, Camp Hill, and Harrisburg understand the various components and safety tech found on their vehicle.
To learn more, continue reading and don't hesitate to reach out to our pros with any questions!
Brake Repair Near Me
How Do Anti-Lock Brakes Work?
The ability to stop in an emergency is critical to keeping you and your passengers out of harm's way and avoid a costly accident.
If you've ever driven across an icy patch of road you probably know the startling sensation of your wheels skidding off course. This most often occurs when attempting to slow down or stop and becomes more likely the faster you're traveling. By keeping your wheels from skidding against the road surface, the anti-lock braking system allows you to stop faster and steer while slowing down.
It accomplishes this through a system of sensors which continuously monitor for any loss of traction or rapid deceleration. The moment your tires begins to seize, these sensors signal the ABS which automatically adjusts the brake pressure "pulsing" them to allow you to safely brake.
What Are The Main Components of an ABS?
The parts of a typical anti-lock braking system can be broken down into four main areas: speed sensors, controller, valves, and pump.
Speed Sensors: Depending on your vehicle type, these sensors are found either next to each of your wheels or the differential. These sensors send speed and braking information to the controller.
Controller: The controller is a small computer located inside your vehicle which monitors the rotational speed of each wheel. If one wheel begins turning slower than the others, indicating a lock-up, it sends a command to the valves.
Valves: Inside the brake line for each brake exists a special valve that opens or releases pressure to the master cylinder inside the brake. The controller can open or close this valve causing that pulsating sensation you might feel in the brake pedal when decelerating.
Pump: When the valves release pressure from the brake line, the pump is needed to return pressure to brake line.
What Should I Do If My Vehicle Doesn't Have ABS?
While most modern vehicles possess an anti-lock brake system, you may encounter some older models lack this innovative feature or that it's been disabled.
In the event you lack ABS and need to make an emergency stop, the best advice is to avoid slamming down on your brake pedal. This can cause your wheels to immediately lock and end up causing a collision. Instead, you should attempt to mimic the ABS system by quickly pumping your brakes until you can come to a safe stop.
Visit Faulkner Volkswagen Service Center!
If you're a driver near Mechanicsburg, Camp Hill, or Harrisburg looking for professional advice or service, stop by our state-of-the-art service center or go online to schedule an appointment which best fits your busy schedule.