Warning Signs of Tire Failure

Your tires are a vital part of your car's makeup—and a key factor when it comes to keeping you safe while out on the road. As such, it's important to be aware of any changes in your tires, so you can ensure your automobile is always running smoothly. What are the signs you should watch out for?
We spoke to our team of expert mechanics at Faulkner Volkswagen and have come back with a list of warning signs of tire failure. Read up to learn what to look for and remember if you have any questions you can contact our service center for more information, whether you're from Mechanicsburg, Camp Hill, Harrisburg, or beyond!
Uneven Tread Wear
Take a close look at your tires. Is the wear on the tread noticeably uneven? If so, it might be best to call your local service center. Uneven tread wear can come from damaged tires, issues with the suspension, misaligned wheels, or improper tire inflation, so it's important to get that corrected quickly.
Sidewall Damage
While you're checking out the tread, it might be a good idea to look at your sidewall as well. People can easily damage their sidewalls without ever noticing, simply by pulling up too closely against the curb or even by running over debris on the road.
Sidewall damage can lead to bulges and tears, which results in pockets of air inside the tire. In some cases, this can lead to a tire blowout, so if you notice anything amiss with your sidewall, contact your mechanic.
Extensive Wear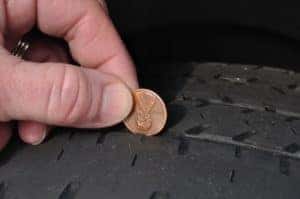 It's important to replace your tires regularly, so they don't show signs of extensive wear. If your tread is almost gone and your tires are looking decidedly threadbare, which can throw your car out of alignment and significantly impact its performance on the road. Luckily, most service centers can quickly and easily replace your tires, so you can get back on the road and on with your busy life in no time!
Excessive Vibration
Is your normally smooth ride feeling bumpy and uneven? If you've noticed a lot of vibration whenever you drive, it could be a strong sign that something has gone off with your tires; vibrations could mean there's internal tire damage or that one of your wheels is unbalanced, bent, or misaligned.
If your driving experience feels shakier than usual, speak to your service center and find out if it's time to replace your tires. Our friendly and helpful staff will answer your questions and get your car running smoothly in no time!
Contact Our Service Center Today
Once you've read up on warning signs of tire failure, you might have a few questions for our mechanics. No problem! Head on over to Faulkner Volkswagen to speak with the experts in our service center, and schedule an appointment for your vehicle.
Whether you need a tire change, minor repairs, or brake servicing, we've got you covered. We've helped drivers from Mechanicsburg, Camp Hill, and Harrisburg, and we can't wait to help you too so contact us today!