VW Awards and Accolades
Faulkner Volkswagen of Mechanicsburg – VW Golden Pin Award Recipient 2018
Each year Volkswagen AG and Volkswagen of America recognize the top dealers in the United States with the announcement of the Gold Pin Awards. The Golden Pin is based on sustained sales performance, customer treatment, representation of the Volkswagen brand and a dealer's commitment to the community. Faulkner Volkswagen of Mechanicsburg is proud to have been one of only thirteen dealerships in the Nation to have been bestowed the Gold Pin and we cannot be more honored.
Faulkner Volkswagen of Mechanicsburg is the proud recipient of the prestigious Volkswagen Golden Pin Award for 2018. This Golden Pin, one of only 13 awarded in the nation in 2018, recognizes Volkswagen dealerships for exemplary performance in every facet of the dealership experience.
What is the Volkswagen Gold Pin Award?
This Golden Pin is awarded yearly by Volkswagen headquarters, based in Wolfsburg, Germany. Nominations are unknown until the dealer is approved as a recipient. The criteria for eligibility to receive a Golden Pin is based upon how a dealership represents the Volkswagen brand to customers as well as it's sustained sales performance, it's ability to deliver a truly exceptional customer experience and it's community involvement.
What does the Gold Pin mean for the future of Faulkner VW?
It means we are doing business the way business should be done. The Golden Pin is a once-in-a-lifetime award. A dealership can only receive the Gold Pin once, after that, the dealer is forever part of an elite Volkswagen club. Having received the Golden Pin, Faulkner Volkswagen Mechanicsburg will now be eligible for the Diamond Pin Award, an even more exclusive honor.
This would not be possible without YOU!
Faulkner Volkswagen Mechanicsburg is honored to be recognized by Volkswagen on the world stage. Thank you to our loyal customers and dedicated employees for making Faulkner Volkswagen Mechanicsburg stand out from the competition. Without you, none of this would be possible!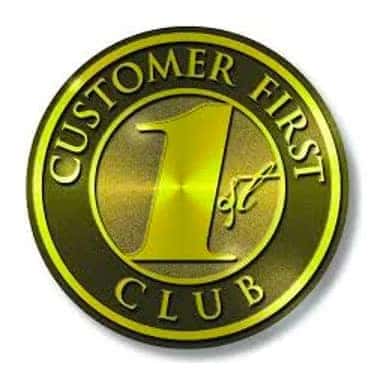 Harry Faulkner Owner
Gail Faulkner Owner
Brian Price President/General Manager
Michael Tocci Regional Vice President Volkswagen of America
Faulkner Volkswagen of Mechanicsburg has been proudly recognized by Volkswagen of American for excellence in all aspects of the customer experience by winning the coveted Customer First Club Award.
Members of the elite Customer First Club are selected by Volkswagen customers through a Customer Experience Survey. According to the feedback from customers, the dealers selected excelled in all aspects of the customer experience, including new car sales, pre-owned sales, and service satisfaction.
We are humbled and honored that our customers recognize the level of service our staff strives to deliver every day to every client. So thank you to Volkswagen AG & Volkswagen of America. Thank you to Gail Faulkner for trusting us to represent Faulkner Volkswagen of Mechanicsburg. Thank you to our amazing, dedicated, hardworking team. But most of all…Thank you…our loyal clients. Because without you, none of this would be possible.