Volkswagen Golf vs Honda Fit

Looking for something a little different than the typical sedan? A hatchback like the Volkswagen Golf or Honda Fit, with their incredibly practical cabins, may be a great choice for all your driving needs near Mechanicsburg, Harrisburg, or Camp Hill.
In this Volkswagen Golf vs. Honda Fit car comparison, we want to put these two cars head-to-head, so you can see how they match up in terms of features and capabilities. As you read, you'll discover which ride has more of what you're looking for! Contact us at Faulkner Volkswagen if you have any questions.
VW Golf vs Fit: Cargo Space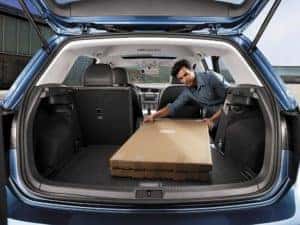 As a compact car, the VW Golf is a bit larger than the subcompact Fit, and that gives it several key advantages in terms of space. It offers 22.8 cubic feet of cargo volume behind the rear seats, which is quite a bit more than the Fit's 16.6 cubic feet. In fact, it's enough space to fit luggage for the whole family.
Fold down the rear seats, and the two cars are more evenly matched. The VW Golf offers 53.7 cubic feet of cargo volume, while the Fit is right behind with 52.7 cubic feet. In the real world, you won't notice the difference. Both have the flexibility to haul your outdoor gear and even some small furniture items.
Handling & Performance Specs
The Honda vehicle can handle city driving, with a 1.5L 4-cylinder engine that puts out 128 horsepower and 113 lb-ft of torque when equipped with a CVT. If you plan on extending your driving to the open roads and highways, the Volkswagen option has more power available with 170 horsepower and 184 lb-ft from its 1.8L 4-cylinder engine.
Test drivers have found that the athletic handling and sharp steering inputs in the Fit offer a fun-to-drive quality and unique sense of playfulness. Much the same can be said for the sporty VW Golf, whose precise steering and adept handling make it a perfect fit for city streets and winding roads alike.
Advanced Technology Features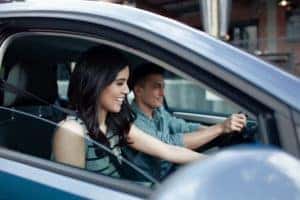 Need to keep your phone or tablet charged while you're on the go? The new VW Golf and Honda Fit both provide a USB port that can keep your favorite device ready for action. Bluetooth® is standard as well, so you can make and receive calls or stream music, all without taking your hands off the wheel.
However, the VW Golf has a few perks you won't find in the Fit, like a standard 6.5-inch touchscreen and Apple CarPlay™ and Android Auto™. You can pair your iPhone or Android device with the car and access your favorite apps rights from the touchscreen! These smartphone integration systems are only available as an option on the Honda Fit.
Volkswagen Golf vs Honda Fit: Which Will You Choose?
We hope that Mechanicsburg, Camp Hill, and Harrisburg drivers learned a lot from our Volkswagen Golf vs. Honda Fit car comparison. These two hatchbacks are remarkably practical and athletic.
If you value horsepower, cargo space, and standard advanced tech, you may like what the Golf has to offer. You can see for yourself by scheduling a test drive at Faulkner Volkswagen. We look forward to working with you!