Transmission Service

At Faulkner Volkswagen, our state-of-the-art service center proudly offers a full suite of services to help keep your vehicle operating at its best condition for many safe years of driving ahead.
On this page, you'll learn the importance a healthy transmission has on your vehicle along with ways to spot and avoid any potentially serious problems while driving around the Mechanicsburg, Camp Hill, and Harrisburg region.
Read on to learn more!
How to Check Transmission Fluid Most Common Transmission Problems
What Is Transmission Service?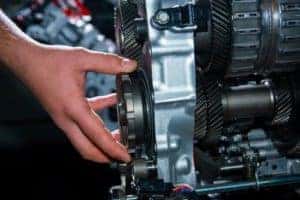 Next to your engine, your transmission is perhaps the most important mechanisms inside your vehicle. Responsible for effectively transferring energy from the engine to your wheels, without a working transmission, you won't be able to go very far.
As the old saying goes, "an ounce of prevention is worth a pound of cure", and this especially can be applied when talking about your transmission. Whether your vehicle relies on an automatic, manual or CVT, it's wise to have your transmission inspected by one of our certified technicians at least a few times per year.
This includes checking your fluid levels, the lines, and the internal gears for any signs of wear or damage. You'll also want to plan to change your fluid every 30,000-60,000 miles for automatic transmissions and every 15,000-30,000 miles for manual transmissions.
How Do I Spot Transmission Trouble?
Recognizing the signs of a transmission in trouble is relatively easy to do if you know what pay attention to and the common signs of impending trouble including:
Delayed Acceleration. If you notice a delay between stepping down on the gas pedal and the car speeding up, it might be caused either by low fluid a worn torque converter inside your transmission.
Gear Slippage. If while traveling down the road your vehicle drastically upshifts or downshifts causing you to accelerate/decelerate it could mean your gears are worn and not properly holding their position.
Unable to Reverse. Typically caused by low transmission fluid or a broken solenoid, avoid driving until you can have the vehicle towed to a nearby service center.
Schedule Transmission Service at Faulkner Volkswagen!
If you're a driver near Mechanicsburg, Camp Hill, or Harrisburg in need of a routine transmission flush or require a serious repair handled by a team of highly skilled pros, we're ready and waiting to assist.
To get started, simply call, drop by during service hours or go online to schedule an appointment which best fits your busy schedule.