Tire Store Near Me

At Faulkner Volkswagen, we know the importance of having great quality tires on your VW model. That's why we have a comprehensive tire shop for drivers like you in the Mechanicsburg, Camp Hill, and Harrisburg areas. This is so your vehicle will have optimum traction on any road surface. It's also to help slow your vehicle down and bring it safely to a stop.
Continue reading to learn about our VW tire store, and how you can get a brand-new set of tires for your Volkswagen today.
What Is Speed Rating on Tires?
Large Tire Inventory
At our Volkswagen tire shop, you'll find tires in many different shapes and sizes. This way, you can be sure that your vehicle will be outfitted with the proper set of tires.
We sell a variety of tire brands, like:
Continental
BFGoodrich
Dunlop
Michelin
Not only will the tires be matched to your car's specific handling requirements, but they'll be professionally installed by our VW certified technicians, as well. Therefore, you can have peace of mind when driving around in your Volkswagen.
When to Get New Tires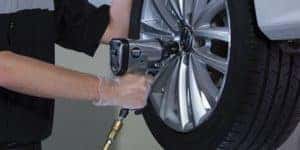 Regardless of your tires' current condition, it's recommended to replace them after 6-10 years. However, they may need to be replaced sooner than that for various reasons.
If there are blisters on the tire or cracks in the sidewall, then the tire will have to be replaced right away. If not, you may get a sudden blow out, which could lead to a serious accident.
You may also feel a lot of vibrations when driving. This could be due to the tires being misaligned or unbalanced. The shock absorbers could be starting to go.
The reason for the vibrations may not even be from the tires themselves. If left untreated, the vibrations could damage the tires, which would lead to a necessary replacement.
Visit Our Volkswagen Tire Store Today
If your Volkswagen needs a tire replacement, you'll want to get that done right away. For service near Mechanicsburg, Camp Hill, or Harrisburg, visit the Faulkner Volkswagen Tire Shop today! Contact us if you have any questions.