Signs You Need an Oil Change


Performing regularly scheduled maintenance is one of the easiest ways to keep your vehicle running at peak performance. One of the simplest tasks you should perform is an oil and oil filter change, generally every 3,000-5,000 miles or so. Doing so can greatly reduce the risk of a costly breakdown while also extending the overall life of your vehicle.
At Faulkner Volkswagen, our state-of-the-art service center is staffed by a team of factory-trained technicians who can provide fast service to get you back on the road in no time. If you're a driver living near Harrisburg, Camp Hill, and Mechanicsburg and you can't remember the last time you had an oil change, continue reading to learn some serious warning signs you shouldn't ignore!
Why Do I Need an Oil Change?
Your engine is the heart of your vehicle. Inside exists a complex system of moving metal parts that work together to keep your vehicle in motion. Motor oil is used to lubricate these moving parts and remove dangerous particles that inevitably find their way into your engine system.
Over time, this oil will begin to oxidize, turning into a thick, black gunk after being exposed to things like moisture, air, and dirty particles. If not replaced, this gunk can hinder your engine's performance and lead to serious and irreversible damage. Replacing an engine is expensive, but it can easily be avoided with regular maintenance and knowing some key warning signs to look out for.
3 Signs You Need an Oil Change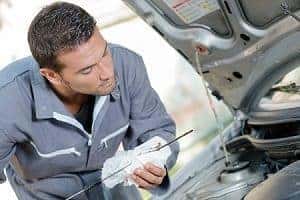 Old, dirty oil can quickly overheat your engine, causing a number of negative effects to occur. These include:
Lowered fuel economy: Dirty oil puts an increased burden on your engine, resulting in higher fuel consumption. If you notice that you're going through a tank of gas more quickly than normal, it's a good sign that you're due for an oil change.
Decreased power or acceleration: If it's taking you longer to reach highway speeds or your vehicle struggles while climbing uphill, you should schedule a service appointment at your earliest opportunity.
Dark exhaust fumes: If you notice your tailpipe is emitting a thick, smoky vapor, you should immediately schedule a service appointment. Old motor oil isn't able to remove dangerous particles, which means the engine burns and releases them through the vehicle's exhaust system. This not only pollutes the air, but can damage your internal system if ignored.
Probably the most obvious sign that your engine is in need of professional care is when your change oil light appears. This symbol will flash or stay lit when a sensor in your vehicle's engine detects that your oil is either old or falls below the recommended level. If this light ever comes on, don't ignore it—immediately schedule a service appointment to have it checked out.
Schedule an Oil Change Today!
Are you ready for your next routine oil change? At Faulkner Volkswagen, we're always here to help drivers throughout Harrisburg, Camp Hill, and Mechanicsburg with all their automotive needs and questions. Simply stop in during service hours or schedule an online appointment today!